Dye Sublimation Vs Inkjet Photo Printer
Inkjet photo printers and Dye Sublimation printers are both used for printing high-quality photos but they both have different uses.
Therefore, this article will give you information on dye sublimation Vs Inkjet photo printer. Dye Sublimation printers are mostly used for Industrial uses while Inkjet printers are commonly used for homes and offices.
Let's look into detail at some of the differences that lie between Inkjet and Dye Sublimation printer.

Inkjet printers have a wide choice for paper sizes varying from smallest to largest. Whereas, dye sublimation printer doesn't offer such a wide choice of paper sizes.
Inkjet printer support printing on many types of papers like an envelope, plain paper, card stock, glossy/sticky paper, and other standard types of media that are used for printing. Dye sublimation printer, whereas, supports printing on T-shirts, rubber, wrist bands, mugs, postcards, etc.
Both the printer supports printing on specialty media as well.
Working of Inkjet vs. Dye sublimation printer includes spraying of ink onto the paper but in a different way. In an Inkjet printer, the microscopic droplets of liquid ink are sprayed onto the paper. Whereas, in a dye sublimation printer the solid ink is sublimed into gas and then again sublimed to solid on the paper.
Therefore, an Inkjet printer consists of liquid ink that dries on the paper. While Dye sublimation printer consists of solid ink that converts to gas and then again to solid without converting into liquid at any stage.
Inkjet printers are much cheaper as compared to dye sublimation printer for printing on paper sizes large than 6 x 4 inches.
The print quality of Dye sublimation printing is higher than that of Inkjet printers. It is so because sublimation printer produces a continuous range of colors in a printed image. You can even notice every dot having different color through a microscope. Moreover, the colors blend on the paper. Whereas, in Inkjet printer, the color quality is also high but lower than that of dye sublimation printer. Colors do not blend in Inkjet printer photos and it can be noticed that it displays primary colors only.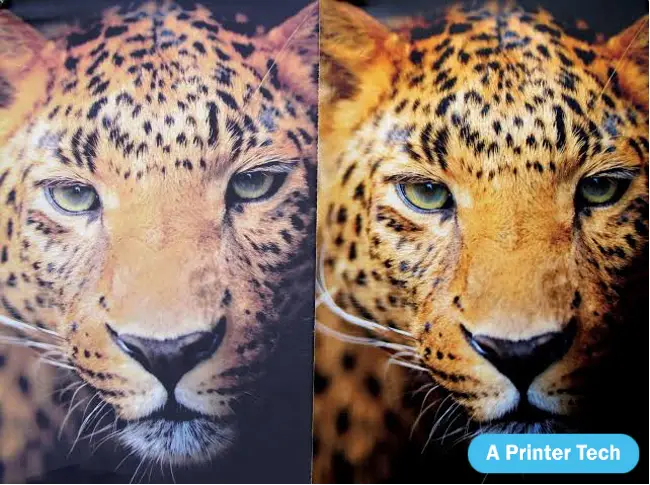 The printing speed of dye sublimation printer is faster than that of Inkjet printer.
Inkjet printers commonly use 4 main inks to create different colors on the paper. These 4 colors include Cyan, Yellow, Black, and Magenta.
Whereas, Dye Sublimation printers use 3 primary colors to create a variety of colors on the paper.
Dye sublimation Vs Inkjet photo printer is a discussion whose end choice depends on the user's preference and requirements the most.
One of the best Epson printer for Sublimation printing is Epson EcoTank ET-4760. Whereas, one of the best Epson Inkjet printer is Epson WorkForce Pro WF-4720. You can consider any of these for Inkjet or Sublimation printing.