As an expensive purchase, choosing the right 3D printer is very essential. Otherwise, if the printer doesn't match your requirements, you have to regret it later. 
So, VzBot vs Voron – which one should you choose?
VzBot comes as a fully-assembled kit while for Voron, you have to buy separate parts and reassemble them. The highest speed for Vzbot is 200mm/s while for Voron, it is 250mm/s. The Voron has a bigger bed size than VzBot and this printer is more costly as well. Unlike Voron, you will get features like bed tilt adjustment and Goliath Hotend in VzBot. On the other hand, Voron has a larger community. 
If you are curious to know these differences in detail, keep reading. 
VzBot vs Voron: Quick Comparison
There are many differences between VzBot and Voron that will influence your decision on choosing any one of them. Here's a quick look at those dissimilarities.
| | | |
| --- | --- | --- |
| Feature | VzBot | Voron |
| Package | Full Kit | Separate parts |
| Highest Print Speed | 200mm/s | 250mm/s |
| Bed Size  | Smaller | Bigger |
| Bed tilt adjust | Available  | Not available  |
| Goliath Hotend | Available  | Not available |
| Community  | Smaller  | Larger |
| Price  | Starts from 1000$ | Starts from $1,500 |
Vzbot vs Voron: In-depth Comparison
Let's discuss the differences between VzBot and Voron in detail for a better understanding. 
Package:
The VzBot comes as a full kit whereas, the Voron comes in separate parts. 
When you buy Vzbot, you will get every item you need to start the printing process initially. For example, the software, bed, and extruder. Which saves you from a lot of trouble. And the assembly of those items is also very easy. 
Contrarily, you have to source different materials and assemble them together when you buy a Voron printer. Buying the items separately costs more. 
Also, matching the compatibility of these items is very bothersome. Especially, if you are new at this, you might get very confused at first. Also, you have to be very careful while choosing the right software for your printer. It's very confusing to decide between Octoprint and Klipper. 
The following video will give you and idea of how to assemble a Voorn printer. 
Highest Print Speed:
In a VzBot printer, the highest printing speed is 200mm/s, whereas, for Voron, it is 250mm/s. 
Although, you may not require as high speed as Voron gives for any common filaments. Also, for 3D printing, speed, and quality is a trade-off.  printing at a high speed like this compromises the printing quality. Still, if you are impatient like me, this can be a plus point. 
Bed Size:
In Voron 3D printer, you will get a comparatively bigger bed size or volume than a VZBot printer.
For example, the most popular VzBot 330 has a bed volume of 330mm x 330mm. Another model of VzBot, The Vz-235 has an even smaller bed volume of 235 x 235 x 240. 
On the other hand, The popular Voron 2.4 has a bed size of 350mm x 350mm x 350mm. And with some adjustments during assembly, you can make this size up to 400mm x 400mm x 400mm. For average 3D printing, a bed with 150–300mm dimensions is enough. But when you want to print something bigger, having a 350mm–500mm will give you more privileges. So, for bigger printing projects, Voron is more suitable.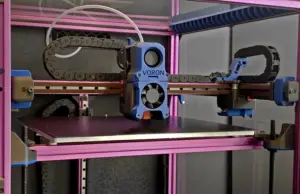 Bed Tilt Adjust:
In the VzBot, you can adjust the bed tilt as required and this feature is not available in Voron. When your 3D printer has a movable bed, it can be tilted while printing. The adjustable bed helps to print objects with critical overhangs without additional support.
In that case, VzBot will be so much helpful. With Voron printers, you will require additional support materials. 
Goliath Hotend:
Unlike Voron printers, the VzBot comes with the amazing Goliath Hotend. When you increase the speed of the 3D printer, the performance often gets compromised. For example, the filament gets stuck on the nozzle.
The Goliath Hotend helps to maintain a constant temperature even at a high speed. As a result, you get an effortless outcome even at a high-speed operation. 
VzBot exclusively comes with this option for providing you with the best outcome in high-speed printing.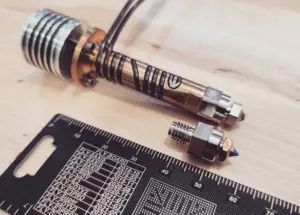 Community:
The Voron has a larger community than the VzBot. In 3D printing, having an active community is a blessing. 
You can seek help with any problem or query regarding the printing. For example how to improve PETG layer adhesion, how to clean the nozzle, and many more. 
The community of Voron is huge and very active. So, you can easily get a solution to all your problems there. Also, you have to build the Voron printer by yourself and this can be a little complicated. So, the community support is essential.
VzBot has a comparatively smaller community and you might not get help every time. 
Price:
The Voron is more expensive than a VzBot printer. You will get a fully assembled VzBot printer starting at $1000 and $1500 for Voron.
As I mentioned earlier, the Voron 3D printer doesn't come fully assembled. To make a fully assembled Voron 3D printing, you need to spend at least $1500 as mentioned. Depending on the features and quality of the components, the price will vary. 
VzBot vs Voron: Which One To Choose?
Go for Voron if you want to share your printing ideas and issues with a larger community. This printer is also best for you if you want to print bigger items and require higher speed.
On the other hand, if you want a fully assembled printer without any hassle, go for VzBot. It is also the best option if you prefer accuracy and ease of use. And as a budget-friendly option, VzBot is better than Voron. 
You can also consider other good 3D printers for your projects like cookie-cutting or something bigger. 
Frequently Asked Questions (FAQs):
What Is The Easiest Voron To Build?
The easiest Voron to build is the Voron Trident. You can build it with three sizes of bed 250x250mm, 300x300mm, or 350x350mm. As you have to buy separate parts and build a Voron printer, you can seek help from the community. The Voron community is very active. 
Is It Profitable To Buy A 3D Printer?
Yes, it is profitable to buy a 3D printer if you regularly make and sell products. 3D printers in the market are now very efficient and accurate. You can make good products with them that have selling value. You can also provide a 3D printing service and make money.
What Is The Biggest Disadvantage Of 3D Printing?
The biggest disadvantage of 3D printing is its limited materials. You can not use any random raw materials for 3D printing. Also, the restricted build size makes it difficult to print bigger items. The copyright issue of product design and the reduction in manufacturing jobs are also concerning. 
Conclusion 
Here goes all the discussion on Vzbot vs Voron in detail. Now it's your time to decide which 3D printer is a better fit for you.
I must say, your shortlisting was impressive. No matter which one you choose, both are of excellent quality and you won't regret it.
This is the end of our discussion. Have a great day!
Read also: How to clean a printer