Well, ebs00p0004 HP printer error shows on the HP printer when it's time to set up the device. 
So, what are the reasons behind showing this error? And solutions?
You are getting the error ebs00p0004 because you are not connecting the wifi direct or USB cable to print. This is the most frequent cause of this issue. 
You can fix this by disabling the privacy separator feature, connecting the wifi direct, resetting your printer, uninstalling and reinstalling all the printer software and driver, and lastly, you need to install the latest firmware update. 
Now, let's discuss in detail the solutions that how you can fix this by yourself. 
What Is

Ebs00p0004 Hp Printer Error?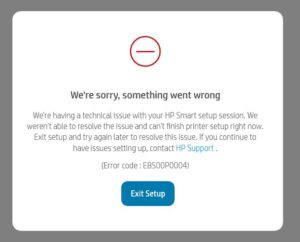 This problem occurs when you want to set up your new Hp printer or at the time of installation. Let's look into the reason behind it.
This can happen when two or more devices use wifi to connect to the same mobile router. The mobile router's privacy separator feature prevents devices from communicating with one another. The printer cannot be reached by the computer or a mobile device.
And then, you can see the error code ebs00p0004 on your printer. If you are already connecting to the wifi but still have this error, then you may update your firmware. 
Now, let's move on to the solutions. 
How to Fix

Ebs00p0004 Hp Printer Error
You can fix the ebs00p0004 HP printer error in many different ways. The solution will be different according to the printer you are using. However, you can try to fix the issue through the solutions below. 
Solution 1: Disability of privacy separator feature 
You need to Disable the privacy separator feature in the mobile router. After completing the setup, you can print without error. How to disable the privacy separator feature? Take a look!
Step 1: You can use a web browser to check the settings of the wireless access point. 
Step 2: Search the privacy separator feature. 
Step 3: Turn it off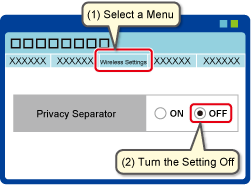 Step 4: If you can't find the website of your wireless access point, contact the manufacturer. 
Depending on the router you use, the privacy separator feature might not be disabled as well. In that case move onto the next solution 
Note: you may find alternative names for this feature such as- Client isolation, AP isolation, or Intra-BSS communication.
Solution 2: Connect direct wifi or USB cable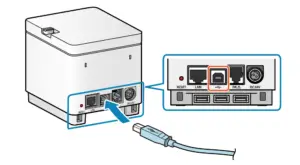 Another way is, you can just connect the wifi direct feature to print. Or you can simply use the USB cable connection for printing. 
Kindly note that some printer models are not wifi compatible printers. Hence, it can only be connected via USB cable to some specific model series such as HP Photosmart C4600 All-in-one.
So, if you already connected the wifi feature, it is not working. Then you need to try the USB cable if you are not sure about the printer's connectivity.
Solution 3: Resetting your printer
If the above solution doesn't work for your printer, You can simply reset it. 
Step 1: If the printer is not already on, turn it on. 
Step 2: Before proceeding, make sure the printer is turned off and silent.
Step 3: Disconnect the power supplying plug from the back of the printer.
Step 4: Remove the power plug from the wall socket.
Step 5: you have to wait at least one minute. 
Step 6: Re-insert the power cord into the wall socket.
Step 7: Reattach the printer's power cord to the back of the device.
Step 8: Turn on the printer, if it doesn't automatically turn on. Now check the control panel display. 
NOTE: HP advises plugging the printer's power wire straight into a wall outlet.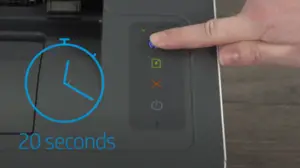 Congratulations! Your HP printer has been successfully reset. Now, I hope it will work for your issue and you can print it. 
However, do not try to mix up the cold reset and hard reset of hp printers.
Solution 4: Uninstall and Reinstall all the printer software
You can try this solution if all the above solutions can not fix your problem. In this term, You have to remove all the hp printer-related software and drivers from your computer and again reinstall them. To perform this on your computer let's first look into uninstalling: 
Uninstalling Your HP Printer:
For this procedure, you can simply check the steps below. Here, I have discussed how you can easily find the software, and drivers and uninstall them. 
Step 1: Search in the search bar of your PC "Programs and Features". Then click on that in Windows.
Step 2: You need to select your HP printer and Uninstall it.
Step 3: Now, find the Devices and Printers.
Step 4: Remove your HP printer from the Devices and Printers window. 
Step 5: Using the "Windows Key + R" key combination, launch the run command.
Step 6: you need to enter printui.exe /s and then click on OK.
Step 7: Select the Drivers tab.
Step 8: Also remove the HP Printer driver from the list.
Step 9: Remove all instances related to the same HP printer.
Step 10: Click on Apply and OK on the Print Server Properties windows.
Step 11: Close Devices and Printers. 
Step 12: Restart the PC again.
If you want to watch any video for this procedure, you can watch this-
By this process, you can easily uninstall all your printer software, and drivers
Reinstall your Hp printer:
After uninstalling your printer and printer-related software and drivers, you need to reinstall them all again. Go to the Software and Driver Download section of the HP customer support, and enter your device name or model that is required. 
And choose your Hp printer driver and management software. 
Solution 5:

Download and install HP smart app.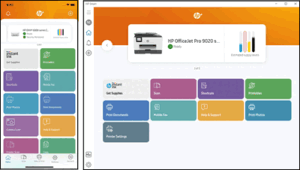 If you already installed it before then you have to remove this app. And again install the app.
Download the HP smart app from 123.hp.com (Android, Apple, iOS),  HP Smart – Microsoft Store (windows), or  HP Smart – Mac App Store (MAC)
You will need to create an HP account If this is your first time configuring the HP smart app.
Solution 6:

Download the printer firmware to install the latest update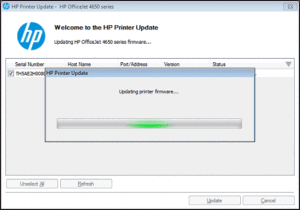 First, check that the printer is turned on and connected to the computer.

Then, you need to enter your printer model in the

HP Software and Driver Downloads

site.

After choosing the firmware option from the list, hit the update's download link, and then adhere to the directions.
(note: If you can't find a firmware option, your printer does not need any firmware update.)
Then you have to check your printer's status on the printer update screen. 

If you can't see your network printer, temporarily connect it to the computer with a USB cable. then refresh it and wait 20 seconds. 

If the status is ready, select the check box next to the serial number and then click update.

If the status is displaying "current", then you're using a printer that's firmware is up to date.
So, that's all about this process. And if you are trying this solution, you may need to perform some more activities with your router and printer such as restarting these two. 
This firmware update can solve many issues with your printer, as well as the printer's Ip not loading in the browser issue.
FAQs: ebs00p0004 HP printer error
Why Does My HP Printer Show Error Code?
This error code may appear for a number of reasons, including hardware problems, firmware issues, or cable problems. If the error code still appears, you can upgrade the firmware after using the reset procedures described at the top of the page. You can also try using alternative printer cables.
Why is HP Ink so Expensive?
The high cost of supplies for inkjet and laser printers is frequently attributed to research and development. According to HP, the company invests $1 billion annually in R&D and has more than 4,000 patents covering just consumables like ink and toner cartridges for laser printers.
Can I Use Any Type of Ink for my HP Printer?
Yes, you can use ink from a compatible or unofficial brand in your printer. Lower priced printer cartridges from third-party companies are available for almost every popular printer model and can save printer users thousands on printing costs every year.
Conclusion: 

ebs00p0004 HP printer error
Thank you for being patient till the end. We tried to resolve the problem of the ebs00p0004 hp printer error. Hope it helps you. Kindly note that this problem and solutions may depend on the variety of the model of HP printer. 
These are some basic solutions for ebs00p0004 HP printer error that you can fix. You should get in touch with the HP support team if these don't work for you.
Read also: HP Printer Blue Screen Error