Sometimes for various setting problems, HP OfficeJet 5255 does not print in color. If you're trying to print papers in color then you must learn about the reasons and their solutions. 
Why the HP OfficeJet 5255 won't print in color?
The HP OfficeJet 5255 won't print in color could be the possibility for the printer cartridges to be empty, dirty cartridges and printheads, wrong printer settings and disabled color printing. However, if you check ink levels, perform a print head cleaning, solve printer settings based on requirements, enable color printing, update printer drivers and cancel all print jobs could fix your problem. 
You have come to the right site if you're facing problems like HP printer ink system failure, printer not printing in color, or color problems that you're wondering how to fix.
HP OfficeJet 5255 Won't Print in Color: Reasons & Solutions
However, there is a possibility that you could face a validation problem while printing. Incase you face this problem then please visit Printer Validation Failed hp. Now our main concern is to give you a few reasons behind not printing in color. Here are the reasons and how to solve them are instructed. The reasons are similar for Windows and MAC but the solutions are different which have been sectionalized in the solution part for both. 
Reason 1: Hanging to Print
Sometimes it seems that the printer does not print by default. Not working for a long time or a current outage could be the reasons for it.
Solution for:
Deactivate the product. 

After 30 seconds, disconnect the power cable from the device and reattach it. 

Press and hold the Resume button for 10 to 20 seconds to turn the product on.
Reason 2: HP Printer Cartridges are Empty or Running Low
If the color cartridges are empty or running low on ink, the HP OfficeJet 5255 printer might be unable to print in color. This is so that the printer can produce a color printout, which requires that all cartridges have enough ink.
Solution:
Examining ink levels: 
Run the printer software on your computer or the HP Smart app to check the ink levels in your cartridges

Replace any color cartridges that have low ink levels or that are empty.
Replace the cartridges: 
Open your cartridge door after turning off your printer. 

By applying pressure and drawing them out of their slots, remove the ink cartridges that are low on ink or that are empty. 

Take out the new cartridges from their packaging and remove the protective tape. 

Make sure the new cartridges click into place when you place them in the appropriate slots.
Testing a page: 
To see whether the color ink is printing correctly, turn on your printer and print a test page. 

Try cleaning the printhead if the problem persists, or get help from HP support if necessary.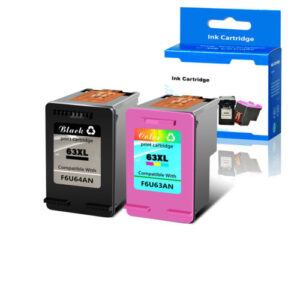 Your printer should now allow you to print after the aforementioned reset procedure. Reinstall the printer driver if the printer still won't let you print following the reset procedure. 
You might still get the "Ink Low" message after resetting and installing the device, though. Each Printel ink cartridge has been fully refilled. The cartridge's chip was unable to be reset, which is why you are reading this message. You can thus disregard the message.
Reason 3: Color Printing is Disabled
After setting up the printer or restarting it, there is a possibility that color print could be disabled by default. And that will refrain you from printing your desired color. You can also connect the printer to your mobile app through Use The HP Smart App.
Solution for Windows:
Make sure color printing is enabled by checking the printer's settings. 
To do this, make sure "color" or "auto color" is selected in the printer settings on your computer or mobile device.
Solution for MAC:
Try setting the HP printer's wireless settings back to defaults to hopefully resolve the MAC address filtering issue and establish a network connection. Any issue brought on by this security feature will be fixed. 
You have to check on MAC Address Filtering Hp Printer for connecting the printer with your devices rightfully. Then you have to enable the color printing through the below steps.
On your MAC, select "System Preferences."
Choose "Printers and Scanners" from the menu.

From the list of available printers, pick your HP OfficeJet 5255 printer.

Click the tab labeled "Options & Supplies".

Choose the Driver tab.

Confirm that the "Print Using" section's "Color" option is chosen.
You might need to download and install the most recent driver software from the HP website if "Color" is not an option.
To save the changes, click "OK."

To ensure that color printing is functioning properly, try printing a test page or a document with color images.
Reason 4: The Printer Driver is not Working Properly
It can be due to a bug that prevents color printing or because the drivers are incompatible with your current operating system.
Solution for Windows:
In the primary search box located at the bottom left corner of your screen, enter "Devices."

Choose "Devices and Printers" in the list of results.

Make right-click on the relevant printer icon.

Choose "Printing Preferences" in step four.

Modify print preferences and click "OK"
Solution for MAC:
After going through

MAC Address Filtering Hp Printer

to connect your device then you can install the printer drivers using HP Smart App. Refer to the document for help-

HP Printers – Install and Use the HP Smart App (Mac)

.

If you face any problem installing the driver then choose System Preferences from the Apple menu, then select Print & Scan or Printers & Scanners.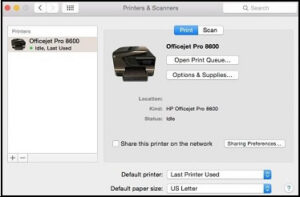 After ensuring that your printer's name appears in the Printers list, carry out one of the subsequent actions:

If your printer is listed, remove it and add it again to make sure AirPrint is configured on it. Click Add Printer or Scanner, click the plus sign, click the printer name, click the minus sign to delete the printer, click the printer name again, and then move on to the next step.

If your printer is not listed then click the plus symbol, choose Add Printer or Scanner, select the name of your printer, and then move on to the following step.

If your printer is not listed then go to the Frequently Asked Questions on this page to resolve connection issues, try to add the printer again, and then move on to the next step if your printer is not shown in the Add Printer or Scanner window.

Verify that Secure AirPrint or AirPrint appears in the Use or Print Using menu before clicking Add.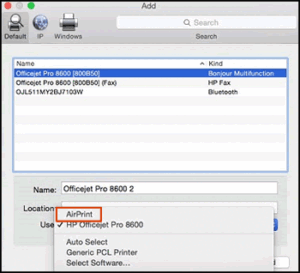 To use the printer's print and scan functions, be sure to always use the Bonjour Multifunction option. 
[Bonjour multifunction is users may quickly and simply set up a local area network LAN without any configuration thanks to Bonjour, which also means hello in French. It enables the discovery and connection of LAN-based software and hardware. It helps link Apple software and hardware to Windows and Linux systems].
Reason 5: Canceling Previous Documents
The jammed print queue is another potential reason why your HP printer isn't printing in color. It could possibly be that the previous setting was in black and white which was about to get printed. Moreover, it is possible for the print queue to become unresponsive and cause problems with the printer's ability to print. To restore the functionality of your HP printer, you can clear all open print jobs.
Solution for Windows:
In the Control Panel, click Devices and Printers. 

In the Printers area, right-click on your HP printer and choose View what's printing.

Choose Open As Administrator from the Printer menu.

Reopen the Printer menu. Choose Cancel All Documents this time.

Verify what you just did.

You have terminated all of your printer's print jobs. Now see whether it can function regularly.
Solution for MAC:
Choose Printers under "System Preferences" in the Apple menu.

Use the "Open Print Queue" button after selecting the active printer.

Choose the required print job(s), cancel it(them), and remove it(them) from the printing queue.
Frequently Asked Questions (FAQs):
Why does my printer use color ink when I only print in black and white?
You might add some color ink when printing in gray to assist you to get the right shading. Black and color ink will be used to prime all of the cartridges whenever they are primed or go through the cartridge cleaning procedure, even if you are only printing with the black cartridge.
Why does my HP printer say low on ink when I just put a new cartridge in?
The original cartridges contain unresectable circuits that track how many pages were printed. As a result, even though the cartridges are not empty, the printer reads the chips and indicates that they are empty. This explains why, despite the ink tank being full, you are still receiving the "ink low" indication.
How do I access HP support?
Open HP Support Assistant in Windows by searching for it or by clicking the app's icon in the taskbar. 

Download the most recent version of the program from the HP Support Assistant website if it isn't already on your PC. 

Locate your machine on the My Dashboard page, and then click Updates.
Conclusion
The causes and fixes for HP OfficeJet 5255 Won't Print in Color are listed here. Please think about the causes progressively and test the solutions. This information will definitely help you with your issue. But, if you don't feel confident handling this repair yourself, hire a qualified specialist.